Ipe Decking for Boston's Camp Harborview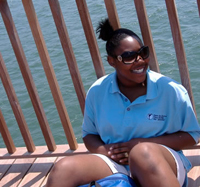 We were excited to help make sure Ipe decking material was used for the Boy's and Girl's Club of Boston's Camp Harborview deck project. We love Boston and think Boston's children deserve the finest and safest decking material on the planet. That's why helped provide ipe wood for the decking material rather than something of lesser quality. We wanted to be sure that the children weren't exposed to the harmful chemicals used in traditional decking material. Ipe decking is also far more resistant to splintering and slivering than any other decking material. That's very important when considering all the children that will be in contact with this deck.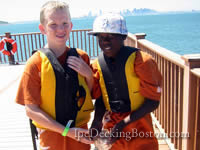 The deck's location (1 Landing St, Boston, MA), is on Boston Harbor. Freezing winter and blazing sun in the summers mixed with constant exposure to moisture in a saltwater environment demands a high end decking material. Our high end decking gives this deck lasting beauty and structural integrity for years to come. It's even better knowing the kids are protected against slivers of wood in their feet and exposure to all the harmful chemicals that are found in traditional wood decking materials and even plastic decking materials. Our Ipe Deck boards are 100% natural and free of any preservatives.

Why is Ipe Decking material so perfect for the Boston area?
It's the highest quality hardwood on the earth.
It's so resistant to insects, fungus and rot that it doesn't have to be pressure treated.
It's density makes it stand up to lots of wear from people walking on it.
So please stop by the Harbor View Camp and learn about all the great work they do there. While you are there, check out the beautiful deck. You'll see it's still holding up just fine . . .they also appreciate donations to help keep their awesome efforts going for future generations.
Learn more about Ipe Decking.
Learn more about Boston's Camp Harborview
Learn more about The Boys's and Girls Club of Boston